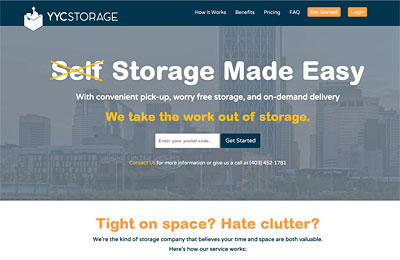 It's hard not to get stoked when an awesome business idea unfolds before you – that's what happened when we met the fellows from YYC Storage. They were looking to create an on-demand storage and delivery service for Calgarians and needed a web development team to build it. So, we built it :)
Our team custom developed the website, creating a program that allows users to order boxes, schedule pickups and request deliveries of stored items all online via the website. The graphic design crew here, worked on the web design while our super smart programs created a user friendly application that is intuitive and seamless.
YYC Storage is a storage company that saves you time and money. Rather than renting out a full storage locker and then hauling your stuff there, these guys will pick your stuff up for free, make you pay only for the space that you're using and then deliver your stuff back when you need it.
To learn more and see the new website, go here: www.yycstorage.ca