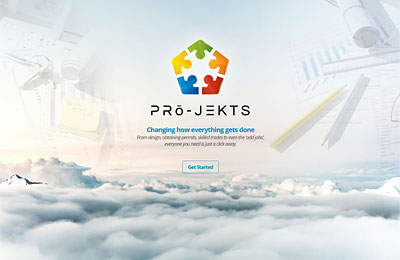 Meet Pro-jekts - a new website connecting homeowners with design/build professionals. The Pro-jekts team got in touch with our web development crew looking to build an online platform that provides leads to skilled trades, while also helping consumers find great construction teams for their home improvement projects.
We've created a custom built website with an intuitive user interface that makes it easy for homeowners to post projects and for contractors to list and market their services. Payments between a homeowner and contractor can easily and securely be made online. It is free for homeowners to use the site and contractors have the opportunity to pay for a premium account which increases their marketing visibility to potential clients.
Pro-jekts is an online task posting service focused on low density residential & small commercial design and construction services. With one post you can now connect with draftsmen for the drawings, engineers for structural changes, builders, electricians and plumbers. For contractors it is a new opportunity for advertising your business and generating leads online.
To learn more, visit the website at: www.pro-jekts.com