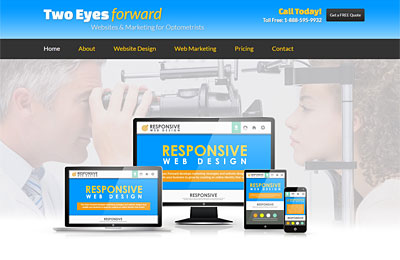 We are proud to announce the launch of Two Eyes Forward – a unique web design and marketing service for Optometry professionals.
Pairing up for Two Eyes Forward, Anduro Marketing and Blue Ocean Interactive now provide strategic web design and online marketing services for optometrists. Two Eyes Forward provides SEO, Google AdWords campaigns, custom website design and much more to assist optometry professionals with marketing their company, products and services online.
Two Eyes Forward combines creative ideas and technology to provide customized solutions for optometrists. Developing marketing strategies and website designs, Two Eyes Forward helps optometry professionals increase their online visibility and help their business grow.
Have a look at the new website here: www.twoeyesforward.com