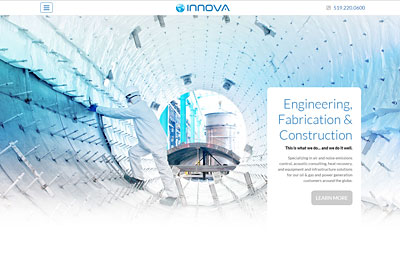 Innova Global Limited is the new name for what was ATCO Emissions Management. Due to this rebranding by the company, they required a new logo design to be developed and a new website as well. We were up to the challenge and are proud to announce that the new Innova logo and website are live.
Our graphic designers got to work drawing up designs for the new logo, incorporating the requests of the company to include a globe to reflect the international scope of the work that they do. We also created a custom web design, programming a content management system to allow site administrators to easily make changes to the front end of the website. The new web design is fully responsive and scales to size on all devices accordingly.
Innova Global Ltd. is a full service engineering, fabrication, procurement and construction company. They specialize in air and noise emissions control, acoustic consulting, gas turbine systems, heat recovery, modular gas compression facilities, and turnkey building solutions for the oil and gas, power generation and industrial industries.
To see the new site and logo design, go here: www.innova-gl.com