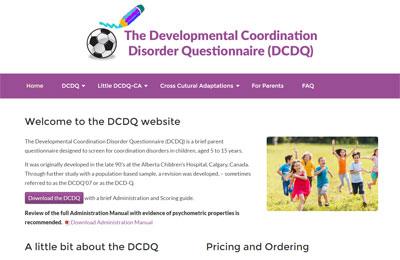 DCDQ is a volunteer run organization with an active website that allows health professionals to access the Developmental Coordination Disorder Questionnaire (DCDQ) online for free. They contacted our team looking to find an economical solution to get it mobile friendly and update the design. We are happy to say that we could help and their new website is now live.
Looking for a mobile responsive web design that could be easily maintained, our team programmed a content management system that allows the DCDQ website's administrator to make changes to the website with ease. We also integrated PayPal functionality into the website, for those visitors looking to purchase the Little DCDQ directly from the website.
Originally developed in the late 1990's at the Alberta Children's Hospital in Calgary, the DCDQ is a brief parent questionnaire designed to screen for coordination disorders in children aged 5 to 15 years. The Little DCDQ is a parent report measure that screens for motor coordination difficulties in 3 and 4 year old children.
To view the complete website, you can go here: www.dcdq.ca