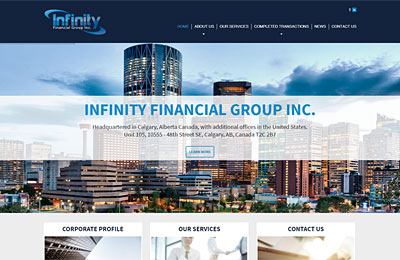 In need of a web developer to design a website and get it live on the net, Infinity Financial Group contacted our team. Their newly designed website is now up and running on the web.
We've designed a responsive website that incorporates a slide show component to illustrate the investment company's services. In addition, our designers created custom graphics as requested by the client to show the completed transactions Infinity Financial Group has structured and facilitated.
Infinity Financial Group is a Canadian owned multinational finance, investment and holding company. They are in the private equity investment business. Their investment horizon is mid-long-term and their objective is to help companies build a foundation for sustainable, long-term success.
To view the full website, you can go here: www.infinityfgi.com