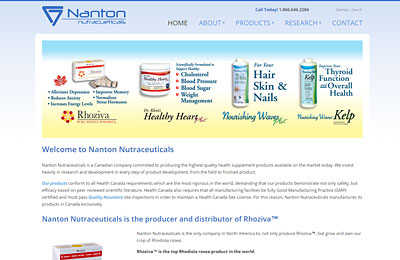 Looking to upgrade their website and get it mobile responsive, Nanton Nutracueticals got in contact with our web development team. We are happy to say that their new, modern, mobile-friendly web design is now live.
Our team created a custom web design and transferred the content from their existing website to the new site. New products have been added to their offerings and these items have also been showcased in the new web design. The site contains an ecommerce component that allows web visitors to purchase products directly from the health and wellness supplement provider.
Nanton Nutraceuticals is a Canadian owned company that has been operating since 1980. They are committed to producing the highest quality health supplement products available on the market today.
To learn more and see the new website, you can visit it here: www.nantonnutra.com