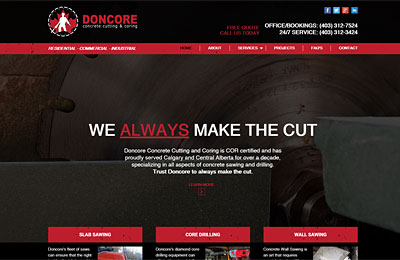 Hoping to get their website up to par with the excellent work that they do, Doncore Concrete contacted our web design team to give their online presence a boost and a much needed update. We are happy to say that their new website is live.
We created a mobile responsive custom web design that incorporates their logo in the background graphics of the inner pages. We also helped their team rework the site's information architecture to make it easier for web visitors to find the information that they are looking for.
Doncore Concrete Cutting & Coring is a Calgary based, family owned and operated company. Since 2004, they have provided effective and innovative solutions to complete concrete projects on budget and on schedule for clients throughout central Alberta.
To view the full website, you can go here: www.doncore.com