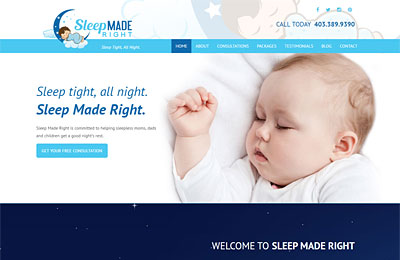 Calgary sleep consultant, Christine Young contacted the web design team here at Web Candy/Blue Ocean to get her new business online. The new site for Sleep Made Right is now live.
Our web development team custom designed the website, building a functional CMS that allows Christine the ability to easily update and upload content onto the site herself. We also incorporated Pay Pal functionality, enabling website users to purchase sleep consultation packages directly from the website. Our graphic designers in tandem with our copywriting team put together business cards and print marketing materials to showcase the many benefits of hiring a sleep consultant.
Sleep Made Right is a Calgary based sleep consulting business committed to helping sleepless families get a good night's rest. Working with you, their expert sleep consultants develop a customized sleep plan, while providing guidance, coaching and support to help everyone in your home get the sleep that they need and deserve.
To see the full website, you can go here: www.sleepmaderight.com