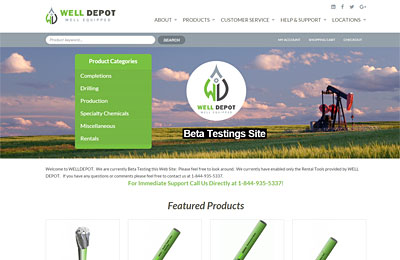 We are happy to announce that our latest ecommerce web development – Well Depot – is live. Though the site is still in its beta testing phase, it is up on the web.
We've created a custom built online store for the company that buys and sells oil field equipment and products online. We've programmed the site using a CMS which allows the site's administrator to easily update and manage inventory from the website's backend.
Offering a full suite of oil field products including completions, drilling, production, specialty chemicals, and miscellaneous tools, Well Depot is your one stop spot online for oil field sourcing. They are currently seeking reputable vendors who want to grow their business without growing their costs.
To learn more and view the site, you can visit it here: www.welldepot.ca