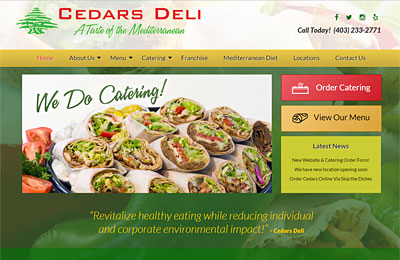 Consistently serving up delicious shawara and falafels and all kinds of goodness, Calgary's Cedar Deli has always been a go-to for us here at the office. We were stoked to be asked to update their website.
The new web design is fully responsive and we've incorporated a custom made online catering form. For those looking for an online ordering option, they can use the Skip the Dishes feature that is offered at both the Panorama Hills and Edmonton Trail locations. Those who want to open a franchise, should definitely check out the site.
For 30 years, Cedars Deli has been a member of Calgary's cultural palate serving up the very best in Mediterranean cuisine. This family run business manages to bring the convenience of fast food minus all the negative health effects of traditional fast food.
To see the full website and order your food now, go here: www.cedarsdeli.com