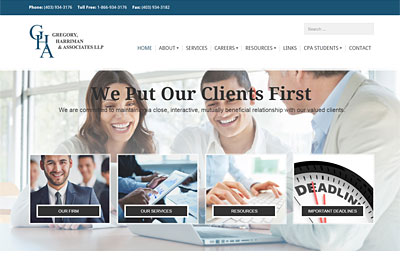 With a need to update their website and get it responsive, the partners at GH&A LLP contacted our web design team here at Web Candy/Blue Ocean. Their freshly designed website is now live.
We developed a clean, modern, web design that focuses on the user, making it easy for them to access the information that they need. We custom programmed the site using a CMS, which allows site administrators to easily edit, update and upload information on to the website.
Located in Strathmore, AB, Gregory, Harriman & Associates LLP is a public accounting firm composed of 3 professional practitioners alongside a team of staff accountants, accounting technicians and clerical staff who are all committed to providing superior customer service.
To view the website, you can go here: www.gh-a.com