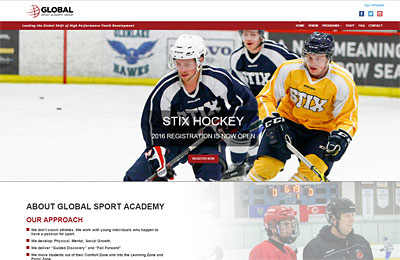 Hoping to achieve greater functionality and clean up the look and layout of their website – the Global Sport Academy Group got in touch with the Web Candy/Blue Ocean team. We are happy to say that their new and improved site is up and running.
We restructured the site's information architecture, making it easier for web visitors to access the information that they need. Custom building a full screen, responsive website design we used photos of the student athletes and built a custom component that lets parents register their children online for the various programs offered by the sport academy.
Global Sport Academy develops winning student athletes, coaches, managers and sports associations by providing innovative and comprehensive educational workshops, programs and resources.
To view the site, you can go here: www.globalsportacademygroup.com