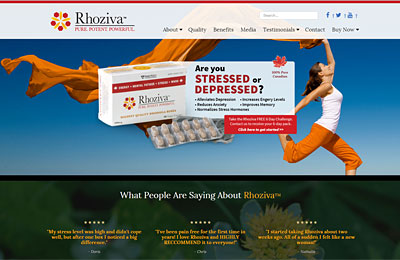 In need of a web design makeover, the Rhoziva team contacted us to refresh their outdated website. We are proud to say that the new website design is now live.
We completely redid the website, changing the site's information architecture to make it easier for web visitors to access the information they are looking for. The new website is mobile friendly and includes an ecommerce component that makes it easy to buy Rhoziva supplements online. The design itself is fresh, modern and simple, showcasing the many benefits of Rhoziva.
Rhoziva™ is a proprietary herbal blend that uses the powerful Rhodiola rosea root to fight fatigue, promote mental focus and clarity, enhance memory, increase physical endurance during periods of physical exertion and support physical and mental stamina during times of increased stress.
To learn more about Rhoziva and see the new website, go here: www.rhoziva.com