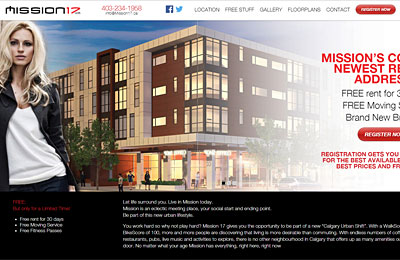 A new rental property - Mission17 - is hitting the Calgary market and their new website is now live courtesy of our web design team. Hoping to promote the new building, the Mission 17/Buss Marketing folks contacted our design crew to create the recently launched website.
We've developed a full screen, mobile responsive website design that showcases the property's area, features and amenities. There is a gallery for those looking to view the building, as well as a pre-registration form for potential tenants who wish to stay up to date with the latest news on the rental property.
Those who register prior to March 1st, 2016 get access to the best available suites, special pricing and free extras which include passes to Talisman, free moving costs, LRT train tickets and 30 days of free rent.
To view the full site you can visit it there: www.mission17.ca