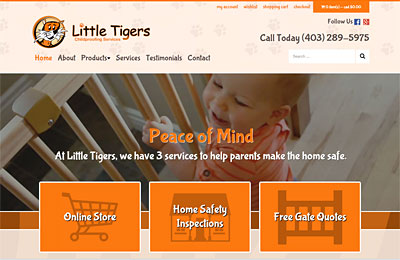 Hoping to give their website a modern makeover, Little Tigers Childproofing asked up our web design team to redesign their existing ecommerce website. The freshly designed site is now live.
We redesigned the website, using full screen imagery to feature their products and services in a visually appealing way. As requested, we integrated their existing social media accounts into the site, with a testimonials section featuring reviews they have received via Google+. The new website is also fully mobile responsive.
Little Tigers Childproofing is a family owned and operated business offering childproofing products and services to keep babies, toddlers and little ones safe. Their knowledge of the best childproofing products and their guaranteed installation is what customers can come to expect from them.
To learn more and see the full website, you can go here: www.littletigerschildproofing.com