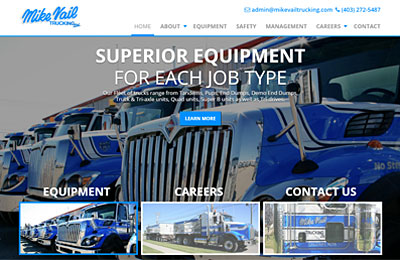 Fellow Calgary business owners, Mike Vail Trucking contacted our team in need of a website redesign. They had two websites running that they weren't happy with and asked us to create a new web design and have both URLs redirect to the new site. It is now live.
We created a full screen, visually compelling design that shows off their fleet of over 150 power units. We visited them onsite to take photographs of the trucks and worked with them to update their website copy and navigation. The new site is fully mobile responsive, displaying across all devices.
Mike Vail Trucking provides superior equipment and customer service to the construction, aggregate, oil and gas, energy and environment industries throughout Alberta. For 3 decades this family owned and operated business has hauled loads with professionalism and the highest standards of performance.
To see the full site, you can go here: www.mikevailtrucking.com