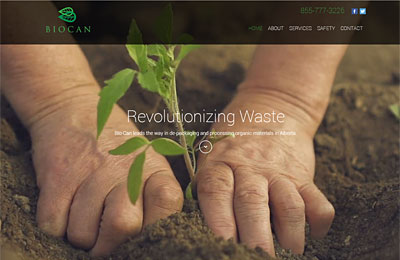 We are happy to announce that the Bio-Can website is now live. Their team contacted us to create a one-page, full screen website design to illustrate how they revolutionize waste by recovering nutrients and recycling them for use in commercial growing projects.
We assisted in truncating the messaging to fit well with the web design and utilized videos and floating images to create a dynamic feel for the website. The site shows how Bio-Can diverts organic materials away from landfills and recycles the waste into organic compost and fertilizer. The website is fully mobile responsive and displays well across all devices.
Bio-can recovers commercial, industrial and municipal organics. By using state-of-the-art technology they de-package organic materials, recover nutrients, and recycle them to make nutrient rich fertilizer products.
To learn more and view the website, you can go here: www.bio-can.ca