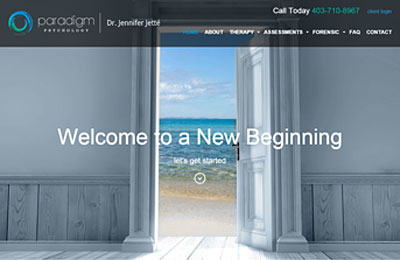 Looking to create a new website for her recently launched Paradigm Psychology, Dr. Jennifer Jette contacted the web design team here at Web Candy/Blue Ocean. We are proud to announce that the new website is live.
We designed a clean and modern custom design that highlights her experience and professionalism as a therapist. Focusing on the user's experience of the site, it is easy to navigate and uses imagery meant to evoke feelings of warmth, empathy and compassion when visitors use the website.
Paradigm Psychology offers individual, adolescent, and family therapy as well as, forensic and assessment services. Dr. Jette possesses over 15 years of experience and uses a variety of therapeutic and assessment techniques in her practice, tailoring methods to each individual's needs.
To see the website, you can go here: www.paradigmpsychology.com