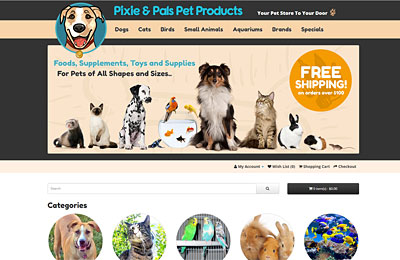 We've just launched a new e-commerce website for Pixie and Pals, an online store delivering high quality pet products and healthy pet foods straight to your door. Owner Marla met with our team to discuss developing a logo design and website for her newly created brand.
The logo we designed was modeled after a photograph of the real-life Pixie, Marla's beloved furry family member. The website is mobile responsive so pet owners can purchase products for their cats, dogs, birds, small animals and/or for their aquarium via their smartphone, desktop, or tablet.
As pet owners themselves, Pixie and Pals knows that our furry friends are more than just pets – they are a part of the family and they deserve only the very best. Pixie and Pals Pet Products is here to help pet owners get the very best for their family members without paying the most.
To start shopping or to see the new website, please visit it here: www.pixieandpals.com