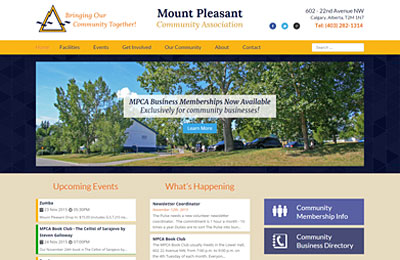 In need of a website upgrade the Mount Pleasant Community Association got in touch with our web design team to redesign their website. The newly designed site is now live.
We created a mobile friendly design for the community association with greater functionality than the previous site. Building an online event calendar that members can easily access, we included a component that allows them to synch such events with their own iCal, Google and/or Yahoo calendars. Members also have the ability to sign up for community and business memberships via the website.
Calgary's Mount Pleasant Community Association is committed to encouraging all residents and participants of their programs and services to share and enhance the quality of life for all members of the community.
To visit the full website, you can see it here: www.mpca.ca