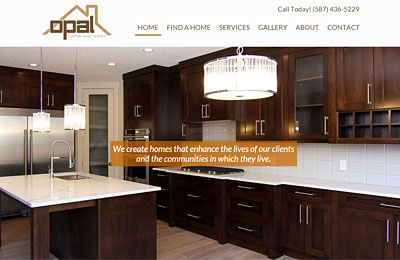 Calgary's Opal Custom Built Homes was in need of getting on the web and contacted our team here at Web Candy/Blue Ocean to design a logo and a website for the company. We are pleased to say that new site is live.
We've designed a logo that reflects the Opal brand in a distinct and simple way. In addition, the website we created is custom built to showcase the work that the custom home builder takes pride in. There are listings for all homes currently available and a photo gallery to peruse and see the true craftsmanship put into each Opal home.
Opal Custom Built Homes combine expert craftsmanship, specially selected materials and attention to detail to create homes that enhance the lives of their clients and the communities in which they live. Built with integrity and honor, an Opal Custom Built home is inspired by creativity and innovation.
To see the full website, you can go here: www.opalhomes.ca