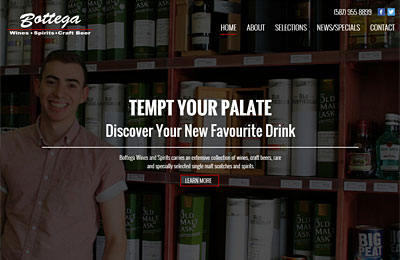 Looking to create an online presence for themselves, Calgary's Bottega Wine & Spirits contacted our web team to design a website for them. The new website is now live.
We created a full screen design that highlights the stores vast selection of wines, spirits and specially crafted beers and scotches. We completed a photoshoot at their location and supplied the website's content via our copywriting specialist. They also wanted to incorporate a newsletter feature and integrate their social media accounts with the site, which of course we did for them.
Bottega wines and spirits is a full service liquor store located in the heart of downtown Calgary. They have an array of fine wines, craft beers, and rare single malt scotches. Their staff is passionate about providing expert recommendations for wine and spirits to compliment any occasion, mood or last minute gift giving.
To see the full site, you may visit it here:
www.bottegawines.com