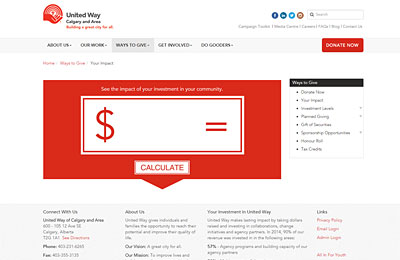 It is our pleasure to say that we got to contribute to the United Way of Calgary and Area by creating a custom built component for their website. Our web developers produced an impact calculator that demonstrates how your investment helps vulnerable individuals and families in the community.
The impact calculator allows you to enter an amount and then outputs where that money will be allocated – for example, safe housing and meals for homeless youth, groceries for low-income seniors, and court support for domestic abuse victims.
Since 1940 the United Way has supported agencies that assist vulnerable Calgarians. They drive social changes in three focus areas: kids, poverty and communities. They invest in programs and collaborations that tackle the root causes of social issues.
To make a donation and see what your dollar can buy, please follow the link:
http://www.calgaryunitedway.org/ways-to-give/what-your-dollar-buys