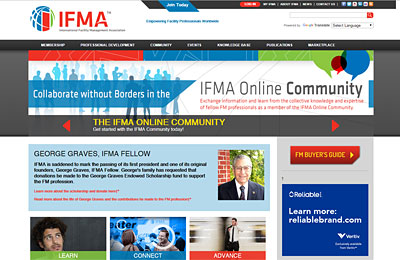 The International Facility Management Assocation (IFMA) contacted the web design team here at Web Candy/Blue Ocean Interactive to give their website a mobile upgrade. Taking their existing site, our web developers programmed the site into a mobile-friendly design to ensure the site renders correctly on all devices.
The site translates content into multiple languages, supporting the needs of the international association. We also integrated an online community component that lets members login to a secure area, post updates, renew their memberships online and also access an extensive list of resources.
Founded in 1980, IFMA is the world's most recognized and largest international association for facility management professionals. IFMA supports 24,000 members in 105 countries. The association's members, represented in 134 chapters and 17 councils worldwide, manage more than 37 billion square feet of property.
You can follow the link here to view the site:
www.ifma.org