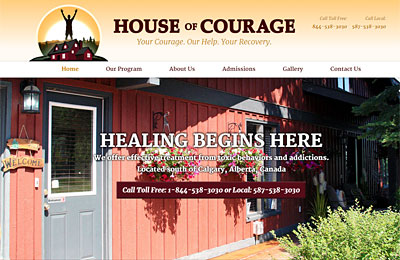 Looking to find a home on the web, House of Courage contacted the Web Candy/Blue Ocean team to help them craft their online presence. The site is now live and running.
Our graphic design team created a logo for the recently launched brand. From there, our web design team created a website that features the recovery centre's many offerings. We also had the pleasure of visiting the beautiful acreage to complete a custom photo shoot and our in-house copywriter completed the verbiage for the website.
House of Courage is an all-inclusive recovery centre dedicated to helping people heal and return to their loved ones healthier and happier. Their all-inclusive approach to recovery encompasses addictions indiscriminately, from gambling, drugs and alcohol to eating disorders and pharmaceutical addictions.
To see the full website, you may visit it here: www.houseofcourage.ca