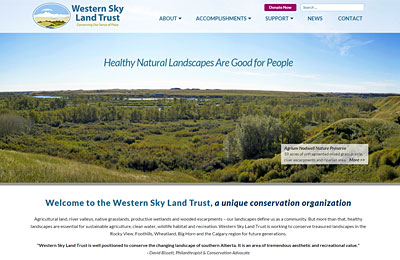 To showcase the beauty of the work that they do, Western Sky Land Trust contacted our web design team to give their website a much needed upgrade.
Our team redesigned the site's overall look and feel by incorporating sweeping images of the land which Western Sky protects. We upgraded their CMS, migrating content from the old site and inputting new content as per their requests. The site is also mobile responsive, scaling to size on all devices.
Western Sky protects critical watersheds in our region. They conserve vital habitats and provide managed public access for recreation and education. They work with other agencies and organizations to protect and enhance natural areas. They champion the conservation of environmentally sensitive lands that support the health of our watersheds.
To have a look at the full site, you can visit it here:
www.westernskylandtrust.ca