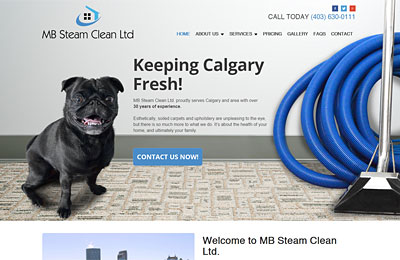 Calgary's MB Steam Clean Ltd. was looking to clean up their website and contacted the Web Candy/Blue Ocean web design team to do the job.
Wanting to incorporate their mascot, Hieroglyphics the Pug, into the design – we of course said 'yes' and it's his cute face you see sitting atop a freshly steam cleaned rug when you first visit the site. The website is mobile responsive and easy to navigate with an email form for those looking to contact the professional cleaning services.
With over 30 years of experience MB Steam Clean Ltd. has kept Calgary and area homes clean. Whether it's soiled carpets, your upholstery, an area rug or your mattress, their team is ready to get the grime out for you.
To visit the full site, you can go here:
www.mbsteamclean.com