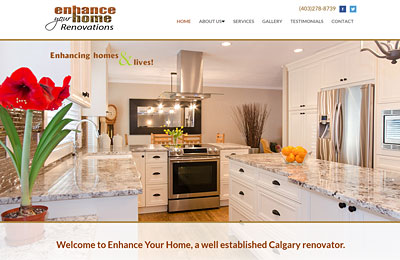 Enhance Your Home Renovations was looking to give their website a full scale reno. Making use of our customer loyalty website upgrade, our longtime clients asked us to get their site mobile friendly. We are proud to say that the new and improved website is now live.
We migrated the content from the previous site, and designed a visually rich website that highlights the renovation company's ability to transform spaces. Their portfolio of projects has been updated and exhibits the before and after work their renovations team has done within Calgary homes.
Enhance Your Home Renovations is a full service renovation company. Located in Bonavista Mall, they have an open door policy for both clients and the general public to stop in and discuss their renovation needs.
To take a look at the new site, you can go here:
www.enhanceyourhome.ca