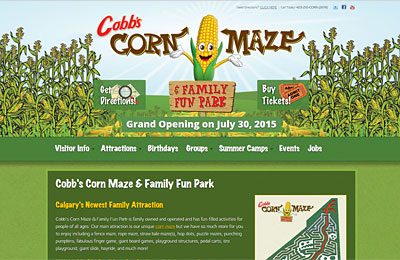 Cobb's Corn Maze has a new website courtesy of the Web Candy/Blue Ocean team. The Corn Maze and Family Fun Park contacted our web design team to give their site a mobile-responsive upgrade.
Using the latest technology, we transformed the site into a full-screen mobile responsive design. It highlights the parks many offerings, including rides, archery tag and a bouncy world – to name just a few features. We integrated the site with an online ticket outlet so passes can be purchased directly from the web.
Cobb's Corn Maze and Family Fun Park is located just south of Highway 1 on the east end of Calgary. It's got straw bale mazes, giant board games, hayrides, a unique corn maze and so much more.
To book your visit to the park and see the site, you can go here: www.cobbscornmaze.ca