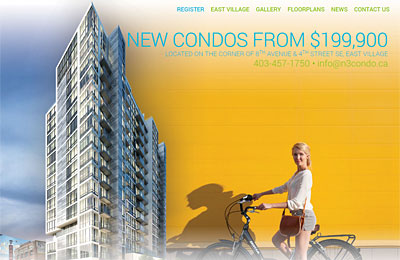 Calgary's first parking-free condo, N3 Condos, has a website courtesy of the Web Candy/Blue Ocean Interactive Marketing team. Though the sales launch is due later this year - Fall 2015 - the developer wanted to get their online presence up and running to get word out about the East Village development.
Our web design team created a delightfully visual website showcasing the benefits of living at the 8
th
Ave and 4
th
St SE building. News about the development, floorplans and location information are highlighted on the website. We also included a registration form that lets website visitors interested in the building sign up for more info.
N3 is set to be Calgary's first parking-free condo project. This 15-storey, 167 unit condominium has been master planned to be among the most walkable and bikeable neighbourhoods in Calgary. Sales for available units start at $199,900.
To view the new website, please go here:
www.n3condo.ca