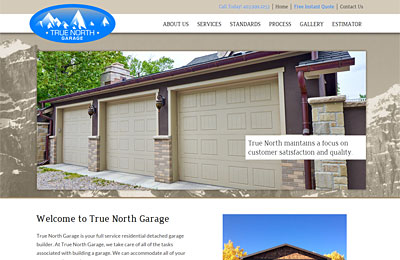 Calgary's True North Garage was looking to update their website and contacted the web design team at Web Candy/Blue Ocean Interactive Marketing to do the job.
The website we built for them is mobile responsive, scaling to size on all devices in both landscape and portrait views. We also incorporated a free instant quote component for the detached garage builders that enables users to input their specifications and get a detailed quote in response.
True North Garage is a full service residential detached garage builder. At True North Garage, they take care of all of the tasks associated with building a garage. They can accommodate all of your garage service needs.
To view the website you can go here: www.truenorthgarage.com