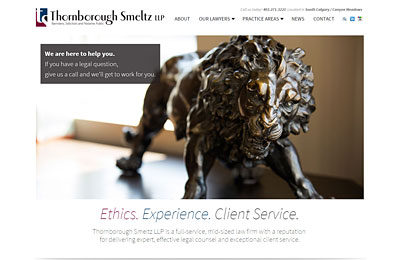 Look for a full service redesign of their website, the full service law firm Thornborough Smeltz LLP contacted the Web Candy/Blue Ocean Interactive Marketing team. We are proud to say that the site is now live.
Creating a fresh new design for the law firm, the website is mobile-friendly, viewing to scale on all devices. We also provided copy writing services to the firm to showcase the breadth of services that they provide in broader detail.
Located in South Calgary in the Canyon Meadows area, Thornborough Smeltz LLP has served Calgary's citizens for the past 35 years. They provide a comprehensive range of legal services for individuals, families and their businesses.
To view the complete site, you can go here: www.thornsmeltz.com