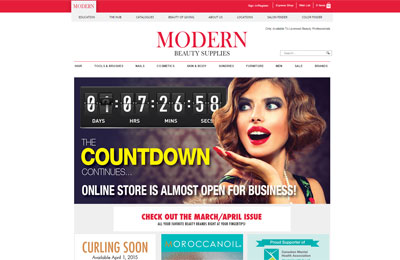 Throughout any given year at Web Candy/Blue Ocean, we get offered to do some really big and exciting projects. The new Modern Beauty website is definitely one of them.
Modern Beauty was in need of creating an ecommerce based website that also delivered mulitple customized components.
Some of these components include:
Interactive catalog viewer
Education Seminar event registration
Extensive Photo & Video gallery
Modern Beauty location finder map search
Salon finder map search
With over 12,800 available products (and growing), this website allows salons and other beauty related merchants to purchase and manage all of their product from one easy-to-use source.

Modern Beauty is dedicated to being your go-to industry resource as one of Canada's leading beauty suppliers. Their mission is to provide you with all with the brands you love.
Have a gander at the new site! www.modernbeauty.ca