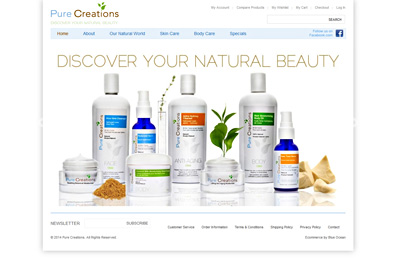 The web development team at Blue Ocean has proudly launched a gorgeous new site for the beauty experts at Pure Creations. The crew created an attractive new design layout for the store including promotions, a newsletter and more. Integrating secure online payments rounded out the set up.
With online sales accounting for more and more business each year, having a strong e-Commerce solution is a key element for modern merchants. See what Blue Ocean can do for your online presence here: http://blueoceaninteractive.com/services/e-commerce-development.html
About Pure Creations
Pure Creations is a proud Canadian company that is family run and extremely passionate and dedicated to a natural and healthy lifestyle. Our skin care line was born 25 years ago in Europe, when a PhD expert in distillation and extraction joined a Professional Esthetician to start a healing and rejuvenating line of skin treatment products.
Since it was brought to Canada, the Pure Creations line of creams has been meticulously refined in our laboratory to produce a collection of formulas for creams promoting glowing skin and a clear, radiant complexion. Each ingredient has been carefully selected, bringing forth only the best. The result is a unique line of creams that work in significant ways while maintaining the ingredients' essential, vibrant and distinctive properties.
We believe that skin care products should contain high quality ingredients and the final skin care product should be effective. We strive to incorporate natural ingredients in all of our creams and we are constantly involved in the research for better and more pure ingredients and a more effective natural remedy. Our creams are based on Cold Pressed Organic Aloe Vera, not water, and every product is at least 99.5% natural, with no paraben preservatives, petroleum, mineral oils, sulfates or detergent, filler, DEA, artificial colors or fragrances.
We take great pleasure in presenting to you our most popular products in the Pure Creations line, where people of every age will benefit from their skin feeling hydrated and healthier. We invite you to share the results of our passion with us.