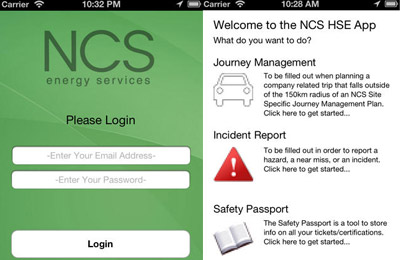 The development team at Blue Ocean has recently released a pair of cross-platform IPhone and Android apps for NCS Energy services. Both apps are available now in the Apple App store and the Google Play store.
NCS came to Blue Ocean looking for a more intuitive way for employees to track and submit safety information anywhere, any time while on the job without needing a workstation or internet connection. The
NCS HSE app
is the result; with a user-friendly interface that allows employees to submit Incident Reports, Trip Assessments and a Safety Passport to store their training certifications. The app is available at the following links:
·
https://itunes.apple.com/us/app/ncs-hse-app/id687602205?mt=8
·
https://play.google.com/store/apps/details?id=com.blueoceanyyc.ncssafety&hl=en
NCS Energy Services, Inc. is an independent technology and services company specializing in multistage completions. They are a global provider and have operated throughout North America, Latin America and the Far East, with a history of more than 4,000 field successes.
www.ncsfrac.com