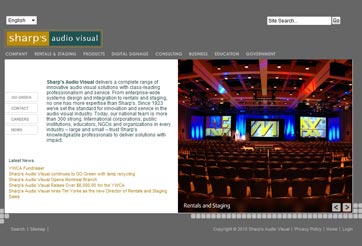 Web Candy is very pleased to have been selected to convert the existing Sharp's Audio Visual website into an easy to use content management system. Sharp's Audio Visual is a Calgary based company that delivers a complete range of innovative audio visual solutions with class-leading professionalism and service across Canada.
Calgary website experts, Web Candy completed the solution by addtional custom web programming to provide a multilingual web solution so that Sharp's website would be viewable for both English and French readers.
Sharp's Audio Visual chose to work with Web Candy becuase they needed a web designer that could accomadate their website programming needs to product an easy to use multilingual content management system.
Check out the new website at http://www.sharpsav.com