When Calgary spray foam insulation company Beyond Foam needed search engine optimization for their website they turned to Calgary SEO leaders, Web Candy. In the search strings most important to their company, Beyond Foam wasn't even registering. The company needed to significantly boost their search engine results - especially those focused towards Calgary. Search engine optimization (SEO) is one of the Web Candy's proven areas of expertise so we were their natural choice for a Calgary search engine optimization company.
The SEO campaign we commenced for Beyond Foam focused on market analysis, key phrase identification and geo-targeting. Tools we utilized included SEO copywriting and providing their website with a content makeover strongly focused on maximizing the site's SEO organic potential. By providing them with a site restructure focusing on search engine optimization we provided them with a site that was designed from the bottom up to indexed by Google and other search engines.
In August of 2009 Beyond Foam was registering at Google result #30 for "spray foam Calgary" and a horrible 136 for "Calgary insulation". Now when someone enters "Calgary insulation" or "spray foam Calgary" Beyond Foam comes up with the best result possible: result number 1. Congratulations, Beyond Foam!
Learn more about Calgary Search Engine Optimization.
Visit the website of Calgary insulation company, Beyond Foam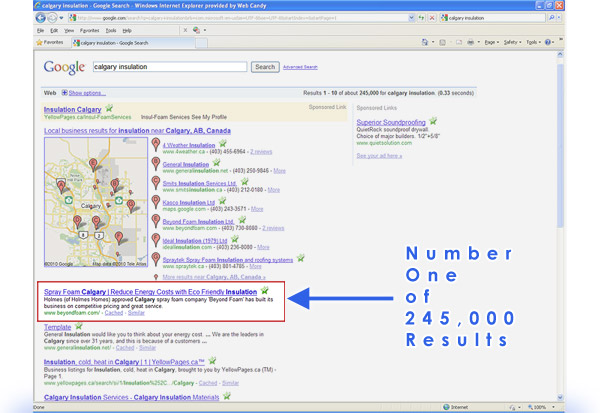 .