Professional Calgary Web Design Services
Professional Calgary Web Design Services
Custom Web Design
Websites designed to achieve your business goals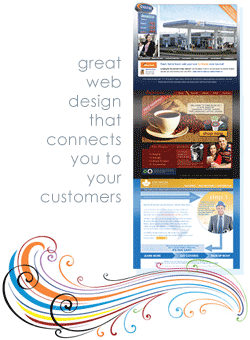 With over four hundred completed custom web design projects completed for our clients in Calgary and across North America, Web Candy has the arsenal of skills and experience needed to deliver consistently high quality and effective websites. Our team of designers understands how to create user based websites focused on your business purpose.
Whether your goals are promotion, sales conversion, leads generation or data collection and the cultivation of business intelligence, Web Candy has the know-how to give your business the effective website it needs.
Use the link below to learn more about why Web Candy is Calgary's choice for great web design.
Click here to learn more about Web Candy's Calgary Web Design Services
Adobe Flash Web Design
Achieve greater interactivity with Adobe Flash website design
Web Candy has the know-how and design skill to accommodate your Adobe Flash web design needs whether your business requires dynamic banners, user-populated photo galleries, animated advertisements or full Flash websites that feature database integration, dynamic content and on the fly data processing. Learn more about how Web Candy has proven itself to be a leader in Calgary Flash web design and development.
Click here to learn more about Web Candy's Adobe Flash web design services
Mobile/iPhone/iOS Web Design
Making sites for the tens of thousands of Calgarians who use their smartphones to surf the web
More and more Internet users are using their mobile devices to access the Internet. Whether these users are getting location based information they need on the fly (i.e.; while driving in Calgary using their iPhone to seek business locations, phone numbers, or other consumer-based inquiries) or surfing the Internet for leisure or research, mobile based web browsing has taken the world by storm. This explosive new technological innovation presents incredible opportunities for businesses to reach out to customers in new and inventive ways.
Don't get left behind. Learn about how we can help your company with mobile web design for iOS platforms like the iPhone and iPad along with Blackberries and other popular handsets people are using now to surf the Internet.
Click here to learn more about Web Candy's Calgary mobile and iPhone web design services
Print Marketing & Graphic Design
High quality end products to better present your Calgary business
Present your business and corporate brand with professionalism and finesse with Web Candy's high quality print marketing and graphic design services. We can accommodate your Calgary print marketing and graphic design needs whether you need a coordinated campaign involving design and distribution to even if you simply need some brochures or business cards printed. Visit the link below to learn more now.
Click here to learn more about our Calgary print marketing and graphic design services
Corporate Branding & Identity Services
Manage what your brand means in the modern and challenging markets
Corporate branding creates a lasting impression about what your business means. Make sure your corporate branding, logo and identity are effective in delivering the message you want. Our Calgary corporate branding and identity management campaigns go from logo creation through to targeted consumer outreach in social media vehicles like Facebook. Learn more about our Corporate Branding now.
Click here to learn more about Web Candy's Calgary corporate branding and Identity services
Web Candy's skilled design team can create virtually any web-based application solution your company needs. Contact us now by calling us at 403-457-3499 (8 AM to 5PM Mountain Time) to speak about how we can accommodate your web design needs. Or use the button below now to receive your free quote.