Case Studies
Coffee Connection (Single Cup) Case Study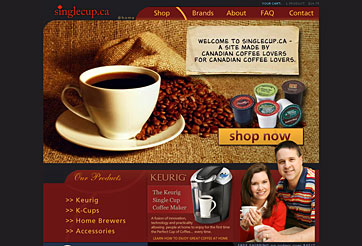 About Coffee Connection
The Coffee Connection is a supplier of single cup coffee brewing machines and K-cups to Alberta businesses. They wanted to target the home coffee drinkers market by offering online ordering and free deliveries. Due to their distributors' requirements the home business had to be a separate entity from the commercial aspect of the business. The out of the box store that had been set up for them by another Calgary web design company was failing to yield any results so they approached Web Candy to create a custom online store built with solid Search Engine Optimization principles. This site would be for the home coffee drinker and the intention was for Google to index the site naturally by individuals surfing the net.
Pains Caused by Old Site
The site was not receiving any traffic and therefore was not generating any sales
Since the store on the old site was a boxed store it did not carry the company's branding within its design.
Due to the limitations of the boxed store the store was not easily navigated and did not create a positive user experience.
The Coffee connection did not have the resources to administer the store and respond to any tech support questions that came up while the customers were using the store.
Web Candy Provided Relief
Web Candy performed some key word analysis and market research and imbedded the key words through out the store. The structure of the store was also designed to be conducive to searchability and be very user friendly.
A custom store was created so that it had the required branding which was carried through to every page of the store.
The store structure and navigation were developed so that shoppers could easily locate and navigate to the products they were interested in purchasing.
Web Candy has forwarded the stores info e-mail to our support department. Now any time a shopper is having an issue Web Candy responds. Our support department also provides updates as needed by the Coffee Connection so that their store content is current and up to date.
End result
The Coffee Connections home division is experiencing a massive influx of orders from all across Canada. Their orders number in the thousands.
The Coffee Connections administration has freed up valuable time by not having to respond to technical questions and do store management.
The site is easy to navigate and is creating positive user experience and user loyalty. The majority of their online store users are now repeat customers.
Learn More About Our Calgary E-Commerce Services